November Recipe Roundup!
You may call it November, but we call it crazy and chaotic! Between Thanksgiving, preparing for the holidays, and trying to enjoy the last bit of the picturesque New England fall, November can feel like a whirlwind. We've put together a collection of recipes that will make the start of the holiday season less stressful. Each recipe is perfect for a harvest feast. Use all of them to create the perfect fall dinner party or select a few of your favorites to serve alongside your main course.
Sausage Stuffed Mushrooms

Ingredients
16 extra-large white mushrooms, caps and stems separated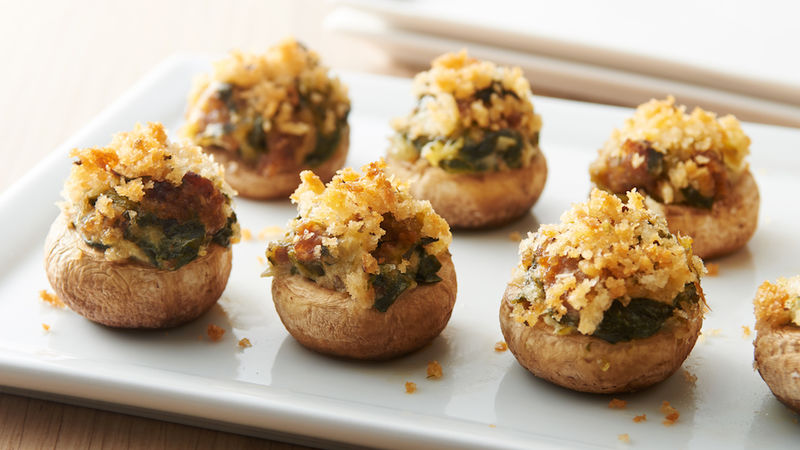 5 tbsp olive oil, divided
2 1/2 tbsp Marsala, a fortified wine from Sicily, or medium-dry sherry
3/4 lb. sweet Italian sausage, casings removed
3/4 cup minced scallions, white and green parts
2 tsp minced garlic
1 tsp kosher salt
1/2 tsp freshly ground black pepper
2/3 cup panko (Japanese dried bread flakes)
5 oz. Italian mascarpone cheese
1/3 cup freshly grated Parmesan
2 1/2 tbsp minced fresh parsley
Directions
1. Preheat oven to 325 F.
2. Trim mushroom stems and chop them finely. Set aside.
3. Place mushroom caps in a shallow bowl and toss with 3 tbsp of the olive oil and the Marsala or sherry. Set aside.
4. Heat remaining 2 tbsp of olive oil in a medium skillet over medium heat. Add sausage, crumbling it with a wooden spoon. Cook sausage 8–10 minutes, stirring frequently until it's completely browned. Add chopped mushroom stems and cook for 3 more minutes. Mix in scallions, garlic, salt, and pepper; cook another 2–3 minutes, stirring occasionally. Add panko crumbs and stir to combine. Finally, swirl in mascarpone and continue cooking until it has melted and made the mixture creamy.
5. Turn off the heat, stir in Parmesan and parsley; season to taste. Cool slightly.
6. Fill each mushroom generously with the sausage mixture.
7. Arrange mushrooms in a baking dish large enough to fit them all snugly.
8. Bake 50 minutes, until stuffing is browned and crusty.
Roasted Brussel Sprout and Yam Salad

Ingredients
For The Salad:
1 lb brussel sprouts, halved
1 lb yams, diced
1 bunch green kale, roughly chopped
1/4 cup pumpkin seeds
4 ounces goat cheese

1 tablespoon brown sugar
1/2 teaspoon cinnamon
Salt, pepper
Olive oil
For The Dressing:
¾ cup extra-virgin olive oil
¼ cup apple cider vinegar
1-2 tablespoons white sugar
½ teaspoon salt
1/4 teaspoon dijon mustard
Directions
1. Preheat oven to 400˚F. Grease a large baking pan.
2. While the over is preheating make the vinaigrette: Whisk vinegar, olive oil, salt, mustard and sugar together in a bowl until sugar is dissolved; set aside.
3. Toss brussel sprouts in a large bowl with a pinch of salt and pepper and a drizzle of olive oil. Pour onto prepared pan. Toss yams in the same bowl with a pinch of salt, brown sugar, cinnamon, and a drizzle of olive oil. Pour onto the pan.
4. Arrange the yams and brussel sprouts into an even layer and place on a middle rack in the oven. Cook for 30 minutes, until softened. Remove from heat and set aside on a wire rack to cool. Keep the oven on.
5. Toast the pumpkin seeds for 1-2 minutes in the oven. Remove from heat and let cool.
6. In a large mixing bowl, toss together kale, yams, brussel sprouts, pumpkin seeds with the vinaigrette. Top with goat cheese and serve.
Not Your Average Pecan Pie Bars

Ingredients
Crust:

1 Cup Pecans
1/2 Cup Pitted Dates
1 Tsp Cinnamon
1/4 Tbsp Vanilla Extract
Filling:
1 Cup Pitted Dates
1 Cup Pecans
1 Large Ripe Banana
2 Tbsp Agave (can substitute stevia if you wish)
1 Tsp Vanilla
1 Tsp Cinnamon
1/8 Tsp Nutmeg
Extra Pecans for Topping
Directions
1. Using your small food processor bowl and blade blend all pie filling ingredients (except extra pecans) until smooth and set aside.
2. Using your large food processor bowl and blade process all crust ingredients until dough like consistency with visible chunks of nut.
3. Grease an 8×8 baking pan or glass dish with a healthy oil.
4. Press crust mixture evenly into baking dish.
5. Top with pie filling using a spoon or spatula to make sure the filling is evenly distributed over the crust.
6. Add extra pecans evenly over the top.
7. Cover with saran wrap and freeze overnight.
8. When you're ready to serve remove from the freezer, cut into squares and serve immediately.
Find our December Recipe Roundup HERE!
Better Gyms. Better Workouts. Better RESULTS!